Get up to speed on the Celsior project with these previous installments:
TOP TEXT

First off, I'd like to apologize for leaving the story open for so long; I've had lots of requests to finish, so thank you to all that have read about my adventures with the Celsior.

Where we last left off, I had just dropped off the disabled Celsior with Lutz. It had been about two days, and he called and asked me to come in to talk about what they found. This didn't bode well with me, and I prepared myself for the worst as I walked through the doors of his shop. I saw my car sitting on the lift with one of his mechanics working under the hood, while he explained to me the work they had done. That's when I noticed it – the car was running! The glorious 1UZ-FE V8 was again back to its smooth and quiet self! The car had jumped timing just before I was set to replace the timing belt/water pump. Lutz also found one my camshaft position sensors had tested out of spec, so being the perfectionist he is, he went ahead and replaced them both, as well as the radiator, as he had found a slight leak. I was ecstatic, and couldn't believe the work had been done so quickly.

Then came the bill, to the tune of $1,800 (maybe more, I don't remember), which I couldn't be happier to pay. I had my car back! As I drove away from the shop, the car felt as good as new, and it nestled into its spot on my driveway again, ready to take me to work in the morning.
About a day or so later, I had my family in the car, and we were coming back from my son's taekwondo lesson. As I pulled into the driveway, I rolled the window down for some reason. Inside my safe cocoon of sound proof metal and glass, I couldn't hear it, but now that the window was down, it was evident that a *sound* was coming from the engine bay.
As I popped the hood, my mind wandered and I again heard the voices of demons and my wife. Why must I be tested this way? With my spouse looking on puzzlingly, I donned my stethoscope and placed it on the idler pulley. Bingo. My mind left the dark place, and the next day I purchased both the idler and tensioner pulley for good measure.

Around this time, my friend in San Antonio was getting ready to celebrate his son's first birthday, and I thought "Wow, how fun would it be to take a road trip in my newly fixed, 25 year old Japanese car?" What could go wrong? The Friday morning before the birthday party, I packed up my family and we began our journey from El Paso to San Antonio. My wife reclined in her plush passenger seat and my son napped in the back, as I started putting miles (or kilometers?) between us and El Paso. When we arrived at the first "major" city, Fort Stockton, my wife decided she needed to use the restroom. I pulled into a gas station, got out of the car to stretch, and noticed it smelled like a car was burning oil. I went inside and used the restroom as well, and when I came back out my wife asked "Is the car smoking?"

The demons immediately returned.

There were definite wisps of smoke coming from the undercarriage. I moved the air suspension switch from NORM to HIGH to try and get a better look, but all I could ascertain was that I had developed a transmission fluid leak. I had to make a quick decision, and it seemed my best option was to turn around and try and make it back home instead of continuing on, as home was the closer destination. I purchased a quart of transmission fluid and left the gas station, turning on my left blinker to enter I-10 *West*, defeated. I kept my eyes on the rear view mirrors as much as the road in front of me, ready to pull the car over at any sign of smoke and evacuate the car. At that point, my attitude towards the situation had changed to a very Ivan Drago like one: If she burns, she burns.

Thankfully, the God of Bomex was watching over us: we made it safely back to El Paso, straight to Lutz's shop. I left the Celsior in his care once again, and walked back home. He called me later that day to inform me that he had found the source of the leak and had corrected it. I brought the Celsior home again, happy, but with a little less glint in my eyes. Driving old cars is tough, and I had three RHD projects I had to keep running.

Sadly, the story ends abruptly here. The Celsior was sold locally on July 20, 2020, for the sum of $6,750. It is survived by a 1991 Nissan Silvia K's (KPS13), and a 1992 Toyota Land Cruiser ZX (HZJ77).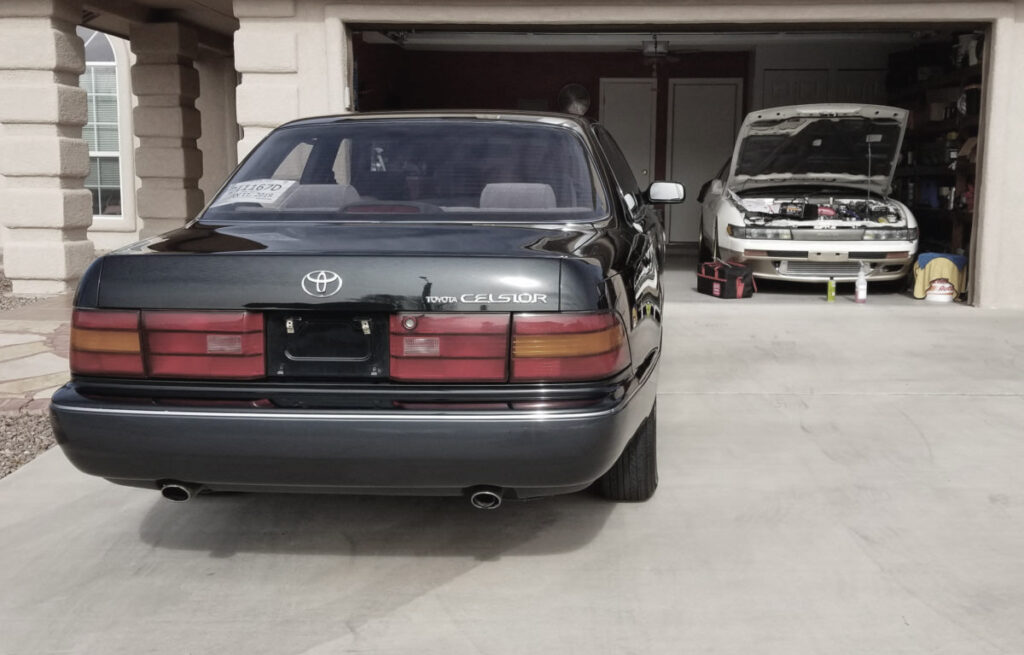 BOTTOM TEXT