TOP TEXT
About a year and a half ago, I imported a 1991 Toyota Celsior Spec C from Japan. I had been looking for a nice LS400 for a while, and given the prices that good low mileage examples were commanding, I decided my money would be better spent importing one, since Japanese imports are generally better maintained and taken care of when compared to their American equivalents. I also wanted to try my hand at importing, and figured I would start with a less expensive car in case I just completely fucked up the import process and ended up getting the car crushed. So began my adventure with "the most reliable car ever built".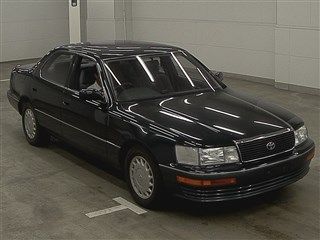 The day the truck delivered the Celsior to my house, I was ecstatic. Months of looking for the right car, bidding, and patiently waiting for a cargo ship from the land of the rising sun was now over. For under $6,000 American, I had an auction grade 4, Black Jade Metallic, 130,000 km Celsior sitting in my driveway.
Like nearly every imported vehicle, the Celsior arrived with a dead battery. I left it trickle charging overnight, and was rewarded with a battery that held charge and did not need replacement. After a few cranks, the Celsior sprang to life and I took it for its first drive around the block. I fell in love with the smooth, quiet ride, and overall comfort I felt driving it, as well as the relatively unobstructed greenhouse that you simply can't find in modern vehicles. The justification to my wife ("Oh, I'll just import this one to see if I can do it and sell it for a slight profit") quickly left my memory (but not hers) as I happily envisioned my new, cool daily driver shuttling me to and from work.
I made note of the things I wanted to get done, namely a tune up and oil change, and also noted that although the tires looked great and had plenty of tread, their DOT date showed they had been manufactured in 2006.
After a relatively simple registration process, I now had a title and a license plate for my RHD beauty, and a newly arrived package from RockAuto containing a few oil filters, air filter, spark plugs, wires, distributor caps (yes, caps), and rotors (yes, rotors). I enjoy working on cars, and will usually tackle most jobs myself, so doing the tune-up myself was a no-brainer. It saves money and would allow me to "get to know" the car; she needed to be shown that I care.
The tune-up, honestly, turned into kind of a bitch. I had to remove quite a few panels and covers to get access to everything, but it eventually got done, and I had a clear conscience knowing I had been a good boy and had done the preventative maintenance the car needed.
I went to take it for a test drive; the car was struggling to stay on, and was just running like garbage. Feeling defeated, I opened the hood and noticed a huge vacuum hose that I had forgotten to plug back into the intake. I was elated when the car returned to normal the moment I put the hose back on, and was again happy with my hard work.
The car ran great for about a day, then started misfiring horribly shortly after I again left my house. I turned around and limped it home, defeated once again, thinking there was no way this fix was going to be as easy as me forgetting a vacuum hose. After about 15 minutes of diagnosis, I discovered that the left side coil pack wire was damaged and arcing straight to the block. The depression quickly left my body, and after digging an old coil wire out of the trash can, the car was humming once again. I got a warranty replacement wire from Denso and all was right again in the world... until I put the spark plug cover on the car a couple of weeks later and discovered the issue was, once again, caused by me. There is a spot on the spark plug cover that has a notch for the coil wire, and I didn't notice that, causing the wire to become pinched and damaged by the cover, thereby causing the arc. I wasn't going to bother Denso again and ended up running the extra, longer coil wire that was included in the kit, which was meant for the later model LS400.
Now, as you are reading this, I know what you're thinking: "this shit isn't the car's fault, this dude is just dumb and he's blaming the car for his fuck-ups." And yes, I agree. None of this stuff was the car's fault, but I have to preface the story with this because in my wife's mind, all of this is me fixing a broken car, and that made what comes later annoy her even more. While my wife is a hater, I really do like the Celsior, I promise. More on the import process and total expenses next week.
BOTTOM TEXT